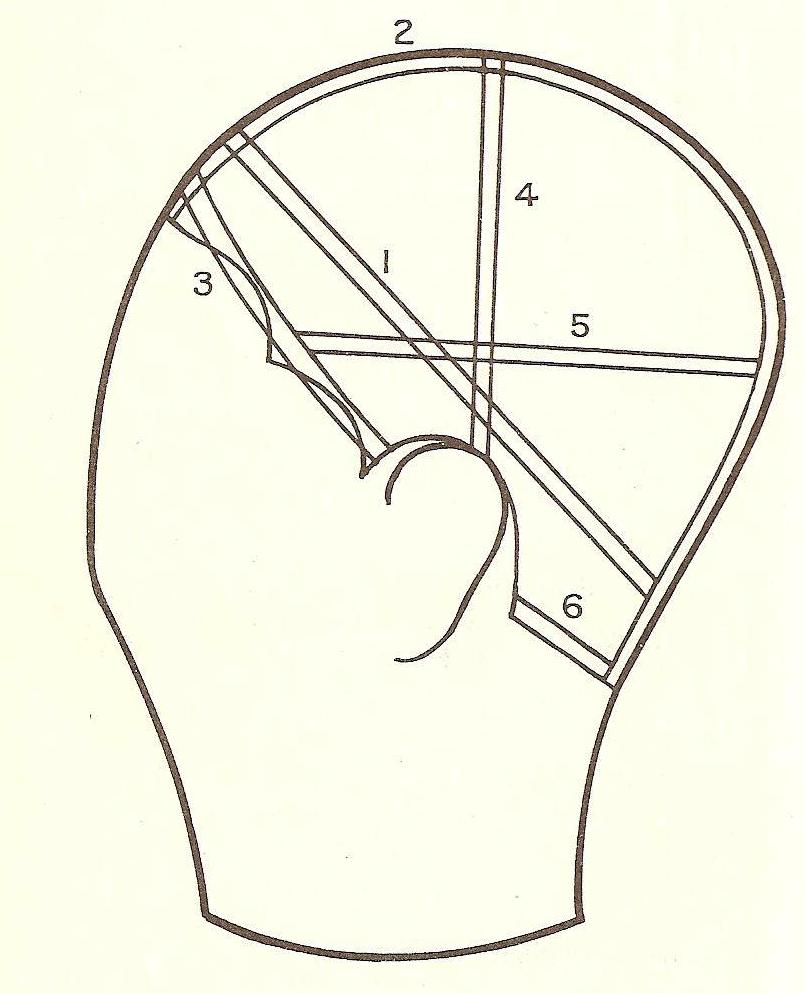 Detailed head measurements are not required for hired wigs unless rare and out of stock.Measurements are not usually needed for female wigs unless head is very big or the wearer has thick and long hair. Mens wigs and very short wigs measurements are more important due to the nature of realistic fits.

However as a general rule we do require the circumference (1) on all orders.
Before any wig can be made for purchase it is necessary to take accurate measurements. These, as a general guide are taken as follows:
Please read then fill in the measurement form below:
1. The Circumference.
This is taken round the head from about 2cm above the hairline in the nape of the neck, above one ear and down to the starting point in the nape. Adults vary from 50cm to 60cm but usually 54cm on average.
2. Forehead to nape.
Place the tape-measure exactly on the hairline at the centre front, take it over the crown and down to the hairline in the nape of the neck.
3. Ear-to-ear across the front.
This measurement is just in front of one ear across the fore-head right on the hairline to a similar position in front of the opposite ear.
4. Ear-to-ear over the crown.
Now measure from just above one ear, over the crown to just above the other ear.
5. Temple-peak to temple-peak, round the back.
When taking the measurement take care that the tape measure is kept level round the back of the head.
6. Nape of neck.
One final measurement is taken which is across the nape of the neck.
RECORD CARD
Name of Actor
---
Character
---
Production
---
Wig or other?
---
Measurements required:
1. Circumference
---
2. Forehead to nape
---
3. Ear to ear over forehead.
---
4. Ear to Ear over top/crown
---
5. Temple to temple round back
---
6. Nape of neck
---
Parting details:
Position. Right, Left or No Parting.
---
Beard and Chin Measurement
---
Hair details:
Colour Required
---
Length.
---
Curled or straight
---
Any abnormality. ie: large head, low hairline, thick or long hair?
---
Abnormality
---
Style.
---
Date required
---
Notes
---
Price quoted. £
---